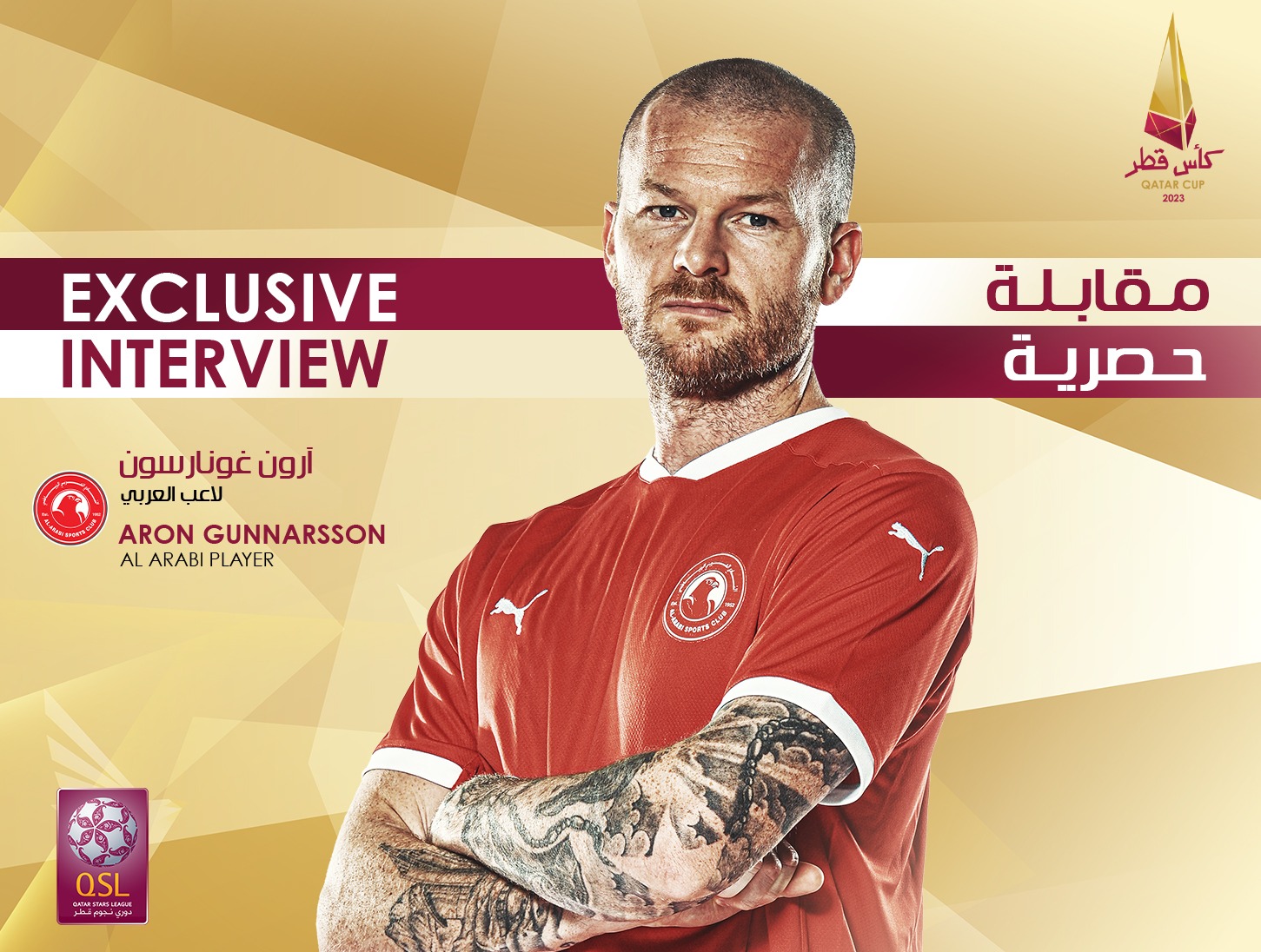 - We're preparing for the 2023 Qatar Cup with great seriousness and we must focus on ourselves to play a good match against Al Sadd and qualify for the final
Al Arabi midfielder Aron Gunnarsson spoke in an Exclusive Interview with Qatar Stars League website about their upcoming 2023 Qatar Cup semifinal against reigning champions Al Sadd on Thursday, February 9.
Al Arabi are going into this match on a high, having returned to winning ways by beating Al Rayyan 3-0 after two successive losses (0-2 to Al Sadd in the Qatar Derby and 2-3 to Qatar SC in Week 12) of the 2022-2023 season QNB Stars League. The Dream Team are now second in the table with 25 points.
Gunnarsson gave his takes on a wide range of topics ahead of the key clash.
How do you prepare yourself and with the team for the Qatar Cup 2023?
We've had an important game against Al Rayyan in the QNB Stars League and we're glad that we won it. After that, our focus turned to the Qatar Cup and we prepared in right earnest for the semifinal.
You face a tough task against Al Sadd in the semifinal. How do you look forward to it?
Yes. It's a tough task. Always when you play Al Sadd, it's a tough game. We know that. They've some quality players in their ranks. At the same time, we've to focus on ourselves to play a good game and qualify for the final.
You lost to Al Sadd recently in the league (Qatar Derby). Will that affect your team in this match?
No. I don't think it'll affect our game. We played a good game against them, but small details decided the result. We had our chances, they had their chances. They took theirs, we didn't take ours. Still, we look at that game positively.
What factors differentiate Qatar Cup match from the league match?
Of course, it's a cup game. Everything is there to gain. Victory matters and we've to focus on ourselves. This is my first Qatar Cup game, so I'm very much looking forward to it. Hopefully, it's a good game for us.
What're the most difficult factors you'll face against Al Sadd in the Qatar Cup?
Like I said earlier, they (Al Sadd) have quality players, strong players who've come back from their World Cup duties and other international assignments. We had played them the other day and we know what to expect. As I said earlier, the first ploy is to minimize their attacking threat and then we need to press hard. Hopefully, small details would go our way.
Which player/players do you find difficult to deal with in Al Sadd ranks?
I don't like to speak about certain players, I prefer to speak about the team. Al Sadd are a strong team and the onus is on us to find progress and beat them. We don't focus on individuals, we focus on how they play, attack or defend as a team. We need to look at the whole picture.
How do you rate Al Arabi's performance this season?
We're happy the way our team is progressing even though it took a long time to get into the right track. We're pleased with our performance, which had dipped against Al Sadd and Qatar SC. We're trying to keep high standards in every training session and every game. It's down to us on how we perform. We must excel in order to win a match like this.
Al Arabi have perhaps the most loyal fan base in Qatar. How will it impact the result?
Our fans have been amazing, I noticed it the day I joined the team four years ago. They're passionate and loyal, and cheered us on at the stadiums. We need their support more in this game. The sense of togetherness is there between the players and fans, and I hope it continues for ever.
What're your targets with the team?
Well, we've our targets. We must compete for the top position and finish as high as possible. We must make our fans feel proud. Our next target is victory against Al Sadd in the next game. Hopefully, we'll reach the final and that'll be our next target. We're keen on always making our fans happy.