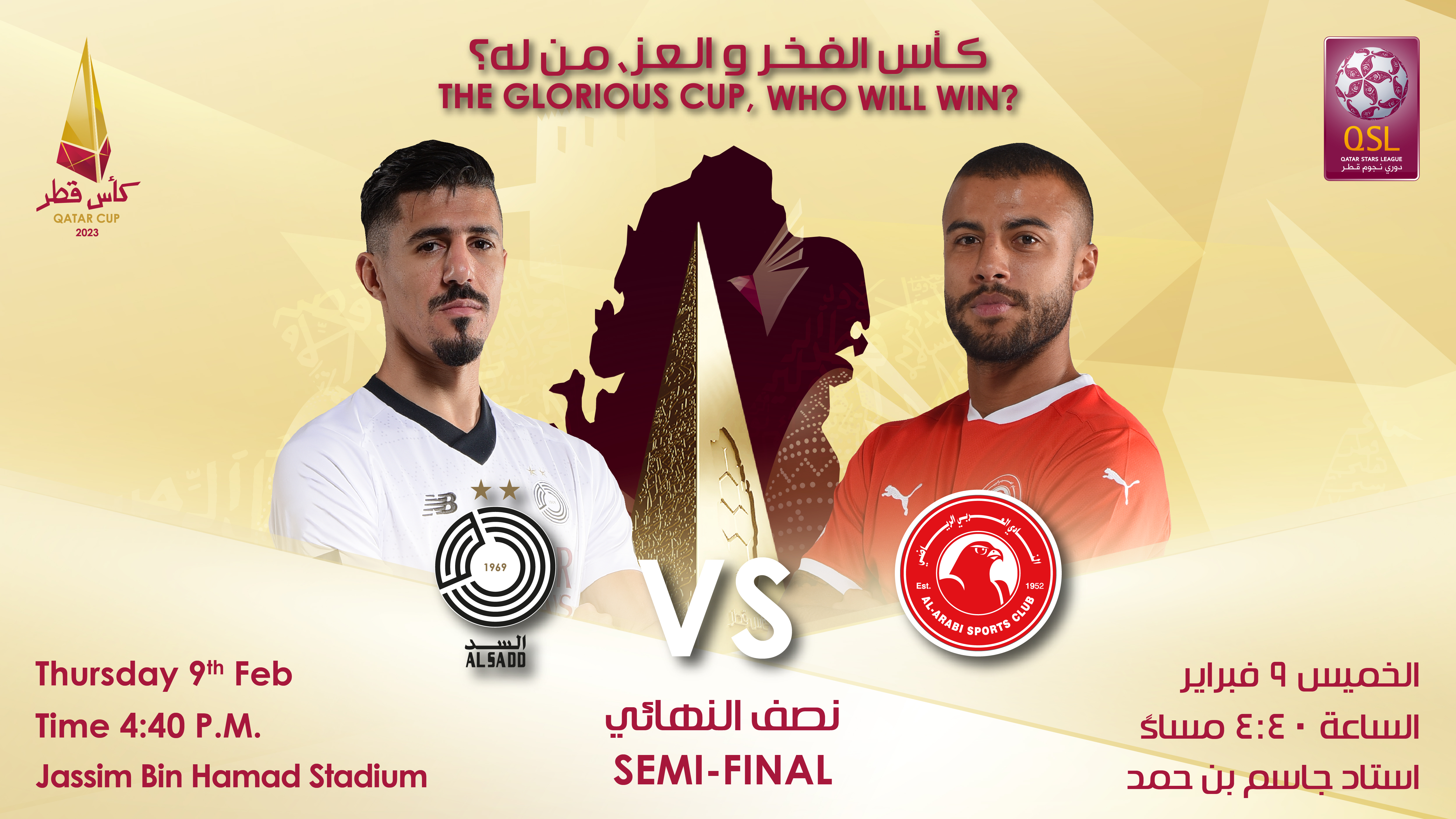 Al Sadd and Al Arabi will face off in a challenging semifinal of Qatar Cup 2023 at the Al Sadd Stadium on Thursday. The kick-off is at 16:40.
The clash is a battle between two big teams – both of whom are looking to make it to the final while chasing their own ambitions.
Al Sadd qualified for the tournament by virtue of winning the 2021-2022 season QNB Stars League with 62 points, while Al Arabi made the cut after finishing in fourth place with 36 points.
Al Sadd seek to defend the title they won in 2020 and 2021, while Al Arabi are in the tournament for the first time after its launch as Qatar Cup in 2014.
Al Sadd, who are in line for a hat-trick Qatar Cup triumph, had previously won the championship in 2017.
Adding to the battle is the top form of both Al Sadd and Al Arabi. The match therefore will witness great excitement and firepower. The winner of the clash will make it to the final and meet the team which makes the grade from the second semifinal between Al Duhail and Al Wakrah.
Al Sadd have the advantage of coming into the semis on the back of four consecutive wins in the league after the long break, having regained the services of their international players.
Al Sadd will count on two things – the first is their strong comeback, second their important 2-0 victory over Al Arabi in Week 11 with goals from Santi Cazorla and Hassan Al Haydous.
Al Arabi too are firing on all cylinders with the return of their national players back in the side. They have been among the top two leading teams in the league and will also look to prove their mettle in the Qatar Cup.
The Dream Team's enthusiasm will be unrivalled within the team, which got back to winning ways in the league with a big 3-0 win over Al Rayyan.
Al Arabi seek to win a title after a long gap, therefore their players will spare no effort to snatch victory and advance to the final.
The ranks of both teams include a number of high-level players who can put on a strong show. Al Sadd would be banking on their attacking strength with the likes of Baghdad Bounedjah, Akram Afif, Cazorla, Al Haydous and others.
On the other hand, Al Arabi will rely on stars Omar Al Somah, Yousef Msakni, Aron Gunnarsson, Helal Mohammed, Hamed Ismail and others. They also have Brazilian star Rafinha Alcantara.
The match will feature tactical acumen of coaches – Juan Manuel Lillo 'Juanma' of Al Sadd and Younes Ali of Al Arabi. Both excel with their strategies and are capable of bringing the best out of players and situations.