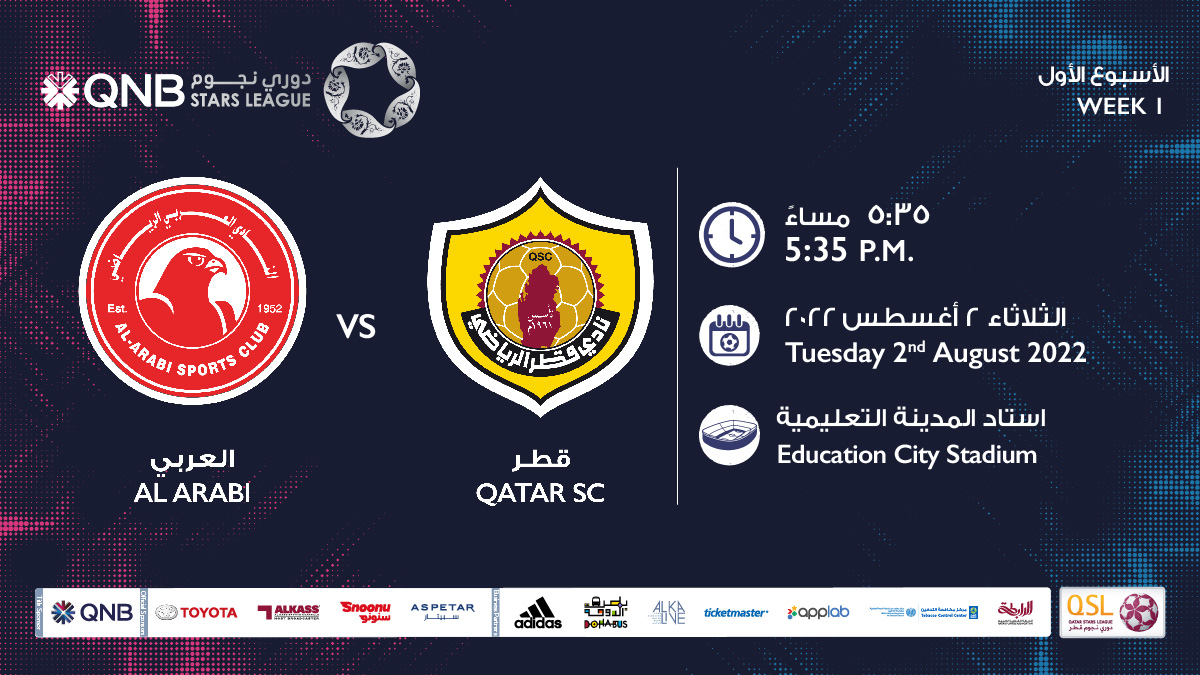 Al Arabi face Qatar SC in Week 1 of the 2022-2023 season QNB Stars League. The kick-off is at 17:35 at the Education City Stadium on Tuesday, 2nd August, 2022.
Both Al Arabi and Qatari SC go into the match with a common aim to win and to gain confidence and boost morale from the very beginning. Despite their different circumstances, both teams seek nothing but a win and to garner points with more goals.
Last season, Al Arabi had finished in the top four of the table after many years and the team is keen to prove their rise in stature by having the same aim for the new season.
Qatar SC, on the other hand, had finished ninth last season and are looking for a fresh start.
Both Yousef Safri, coach of Qatar SC, and Younes Ali, coach of Al Arabi, are well aware of their opposition's playing styles, and therefore the match is an open affair, for the coaches and players alike.
Al Arabi have settled on the continuation of their national coach Younes Ali, with whom they greatly achieved. The team is also continuing with their professionals - Tunisian Yousef Msakni, Spaniard Marc Muniesa, Icelander Aron Gunnarsson, Gabonese Aaron Boupendza and Iranian Mehrdad Mohammadi.
From among the local talents, Al Arabi have Qatari goalkeeper Jassem Al Hail who is back on loan, Mohammed Salah El Neel, Khalifa Al Maliki and Abdulla Issa Al Sulaiti.
Al Arabi recently trained at an overseas camp in Spain during which they played four friendly matches. They also played a friendly against Al Sadd in Doha.
Qatar SC have also prepared through their camp in Spain, playing three friendly matches, and then had a friendly meeting in Doha against Lusail club.
Qatar SC have missed out on signing their Qatari stars – Al Hail, who is now contracted with Al Arabi, Ahmed Moein and Yousef Ayman. The club has signed Ibrahim Majed, Talal Muneer Mazeed, Ali Awad Bujaloof, Jassim Al Mehairi and Mohammed Al Rubiei.
As for foreign professionals, they have included distinguished Moroccan defender Badr Benoun besides the continuation of a number of professionals from the last season, most notably Iraqi Bashar Rasan.