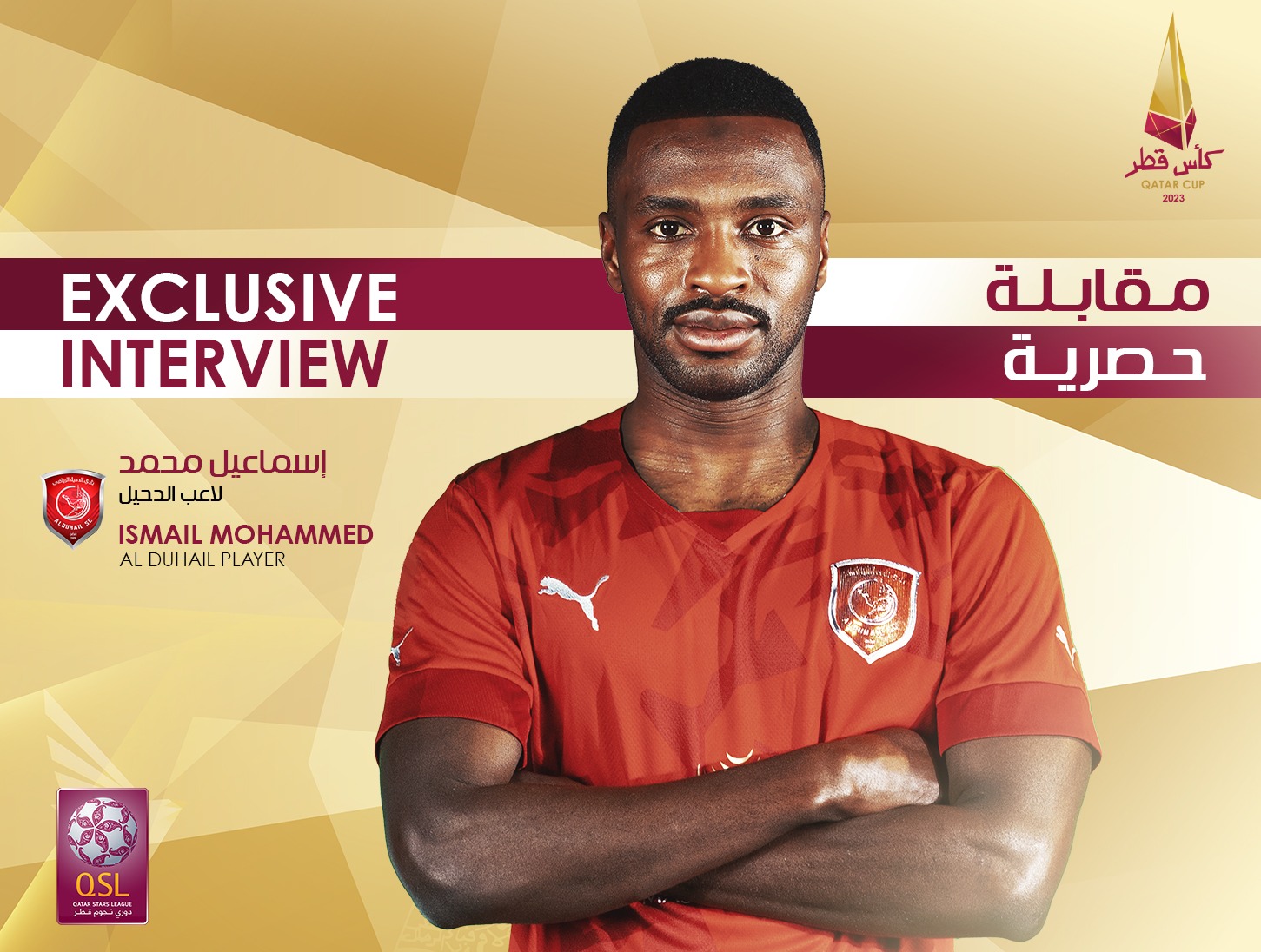 - Our preparations for this prestigious tournament are going strong and all players are aiming to win the title
- Al Wakrah have quality players, but Al Duhail don't fear anyone and can stop the threat of any opposition
- We promise everyone to provide our best on the field and we'll work hard to fulfil the aspirations of our fans
Al Duhail player Ismail Mohammed spoke in an Exclusive Interview with Qatar Stars League website about their upcoming 2023 Qatar Cup semifinal against Al Wakrah on Thursday, February 9.
Al Duhail will go into the match having recorded five consecutive wins and are at the top of the rankings in the 2022-2023 season QNB Stars League after the long break.
Ismail spoke on various topics including Al Duhail's aspirations, plans, pride and glory.
Firstly, we thank you for this interview. How are you and your team preparing for the 2023 Qatar Cup?
Our preparations are going on in full force for this tournament under the supervision of the technical staff and with great determination from all players in order to win the title.
What does this tournament mean to you, the cup of pride and glory?
Certainly, the championship is precious, not only to us, but to all clubs that compete in it. For me, I hope to win the title and compete in it every season.
You will be playing a strong Al Wakrah in the semifinal. How do you see the contest?
It'll be a difficult match as Al Wakrah are one of the strong teams and in view of their results in the QNB Stars League, they've been doing very well. But such games are fun and I wish success to my team to reach the final.
How's the Qatar Cup competition different from the league?
Yes, the competitions are different. There's room for compensation in the league and the equations in it are different. You may lose and then compensate in the following matches, but in Qatar Cup, there's no room for errors and players must take the field with full concentration.
You played against Al Wakrah recently in the league and won. Does this give you an advantage ahead of your face-off in Qatar Cup?
As I said earlier, league matches aren't the criterion for Qatar Cup games. Only victory can give us an advantage from a psychological point of view, but on the field, it's completely different.
What could make this match difficult for you?
The match won't be difficult for us alone, but for Al Wakrah too. However, lack of focus can make it difficult.
Who's the player you fear the most in Al Wakrah ranks?
Al Wakrah have quality players, but Al Duhail do not fear anyone and work will be done to stop the threat of opposition.
Does Al Duhail have the ability to win the cup, which it has won twice since its inception under its current name in 2014?
Yes, we've the ability to compete, our team is complete and we've a great desire to win this important title.
What do you promise the team management, technical staff and your fans?
We promise to provide our best on the field and to work hard to achieve the aspirations of our fans.
What're your goals with Al Duhail this season?
My goal is to win titles and present the level that helps the team achieve its aspirations and ambitions.
Any message you would like to give to fans?
I invite all fans to be present at the stadium. Their presence gives us additional motivation to play hard and compete towards achieving victories that make them happy.