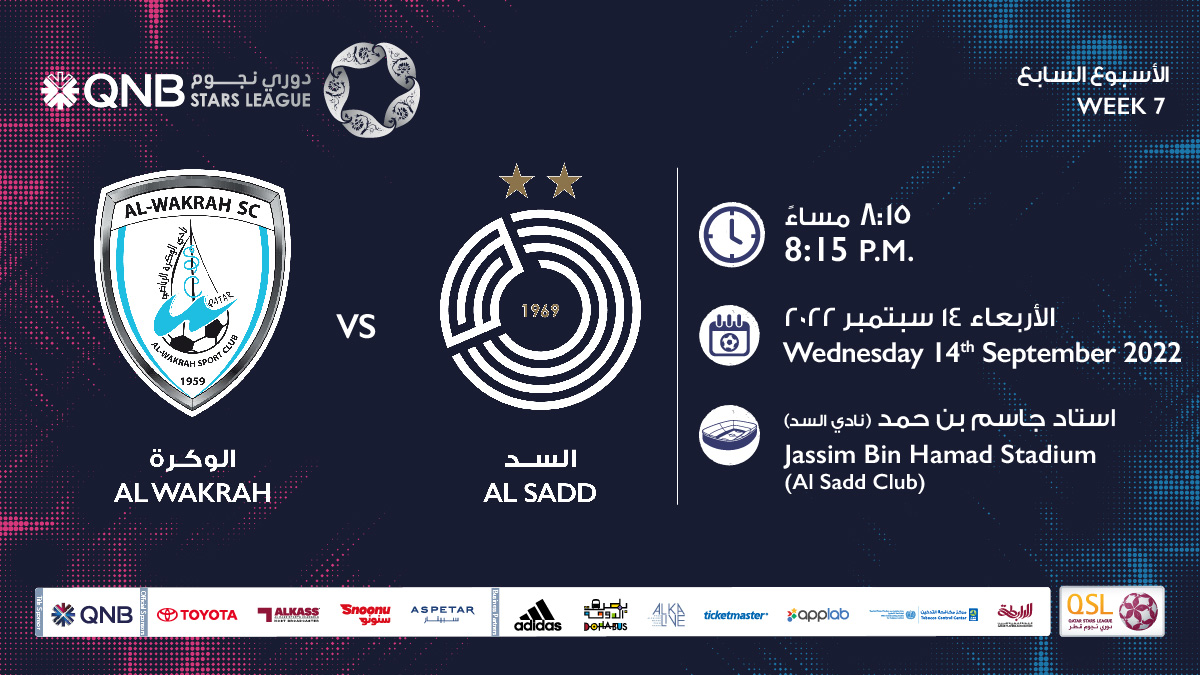 Al Wakrah face Al Sadd in Week 7 of the 2022-2023 season QNB Stars League. The kick-off is at 20:15 at the Al Sadd Stadium on Wednesday, 14th September, 2022.
The contest is expected to be an absorbing affair just ahead of the league taking a break as Qatar heads towards hosting the FIFA World Cup 2022.
Al Wakrah, currently third in the standings with 12 points from three wins and as many draws, challenge defending champions Al Sadd who have managed only two wins thus far and have seven points to their credit. The Wolves are affected by the absence of many of their star players preparing with the national team.
Interestingly, Al Wakrah, who began the league on a strong note, have been held to draws in their last two games by Al Markhiya (0-0) and Al Ahli (2-2) and have scored a total of 14 goals so far and conceded five.
Al Sadd are eighth in the table having suffered three defeats and scoring a draw besides their two wins. The Wolves have struck a total of 11 goals and conceded 12.
This clash therefore provides a big chance for either of the teams to bounce back and strengthen their positions. Both teams have traditionally witnessed exciting matches and are capable of producing a strong challenge.
Al Wakrah have been excelling with their stars in Mohamed Benyettou and Jacinto Dala, backed by their reliable goalkeeper Saoud Al Khater.
Al Sadd, under Spanish coach Juan Manuel Lillo 'Juanma', will be strengthened by the return of Rodrigo Tabata following a two-game suspension after he was expelled in the fourth-round match against Al Gharafa.